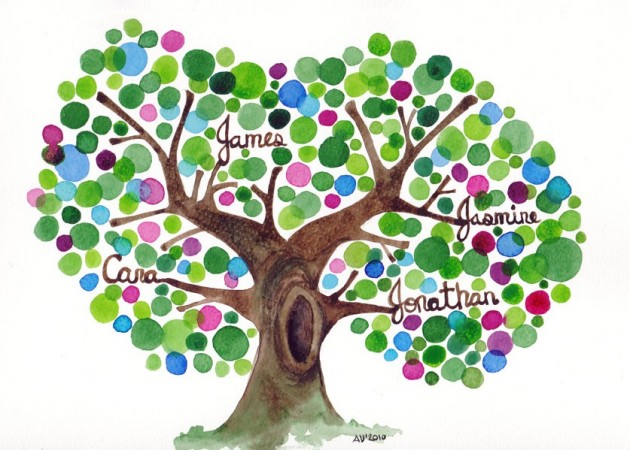 Jellybeans…A Ray of Colourful Sunshine For Your Walls
Jellybeans is one of my favorite shops on Etsy…those wonderful watercolor trees make me happy!   Angela Vandenbogaard is the self-taught, successful, talented artist and owner of Jellybeans.
"I've been dabbling in art and craft materials for as long as I can remember. I am particularly fond of watercolour medium, as I can create such crisp, colourful and playful illustrations. I have also worked in acrylic paints for some time, and have begun experimenting with the oil paint medium – and I have developed quite the love for it."
Angela grew up on a dairy farm in rural Ontario, Canada, and is currently a medical radiation technologist working in Owen Sound, Ontario.  Although she loves science, she also loves expressing herself through colourful paintings, most often with nature as her theme.
Part-Time Creative
I spent some time on Angela's blog last night and found several projects that inspired me to try something new and different:
Sketchbook Project
Map Project Collage
Project Life
With over 3,500 sales on Etsy since 2006 and 100% positive feedback, it is worth paying attention not only to her beautiful paintings but also to her advice on selling artwork.  I recommend her article titled Looking Back: How I Got Here. to new Etsy sellers or artists just beginning to think about selling their work.  It is an encouragement to those of us just getting started on Etsy.
It's easy to forget that even the most successful artists had to start somewhere, and they didn't know the outcome when they began.  Sometimes it can be frightening to put ourselves "out there" for the world to see and critique…after all, our art is a part of us!  I believe taking that leap can help us grow as an artist; perhaps in ways that we wouldn't have if we hadn't taken the risk!
Visit Angela's web site to view her complete portfolio, including her completed Sketchbook Project.
Contact & Purchase
---
Copyright 2012 Kathryn Depew.  Images Copyright Angela Vandenbogaard; used by permission.
---
The Complete Watercolorist's Essential Notebook

Martin Van Dyck Studio Watercolor Painting Kit

1,000 Artist Journal Pages: Personal Pages and Inspirations
---
Related articles