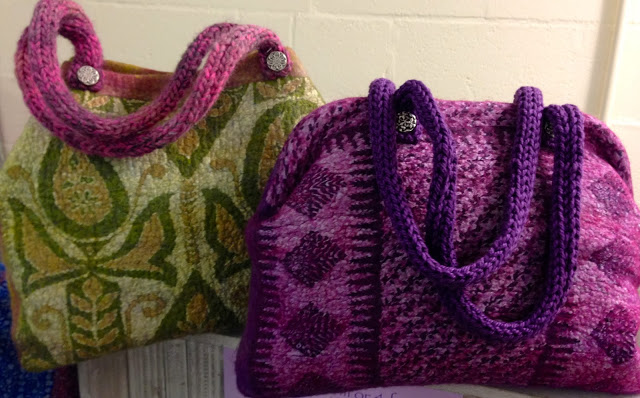 Carol Martin is a talented textile artist living in Manchester (United Kingdom). Visit her blog for wonderful tutorials on making beautiful felted handbags, cushions, simple coasters, and more!  Her web site is a great source for ideas and inspiration, and you can find out more information about her work and workshops there, too. And, she is currently offering several Christmas felting kits in her Etsy Shop!
About The Artist
Working with textiles runs in the family – my Mum is a knitter, my Grandma was a lacemaker and worked in the weaving mills in Yorkshire, alongside my Uncle and Great Aunt. It's fair to say with all this inspiration I've always enjoyed making things but somehow it never occurred to me to consider a career in textiles. Not until I was watching a gardening programme and saw someone making hand made felt. She sat in a beautiful garden with lots of colourful wool tops, pulling bits off like candy floss and dropping them onto her lap to make a felt picture. Well that was it – I quickly signed up for a felt making workshop in which I tried to replicate a lovely garden in my picture only to be told by the person next to me "What a lovely ladybird" – they were actually poppies! Nevertheless I loved the experience and have now been learning and making felt for six years.
I opened my Etsy shop to try to sell some of the many things I make. However, I also sell at craft fairs and artisan markets so it's sometimes hard to list things in case I sell them elsewhere! So in a year I've only had 1 sale! You never know the floodgates might now open!
I also work in schools providing workshops in felt making. This all began when my then seven year old son volunteered my services when his class began studying the Vikings. I really enjoyed the experience and since then I've done a variety of projects in various schools which I've found really rewarding since the children are always so creative. Photos can be seen on my website: feltcreative.co.uk.
I also started a blog: foxglovefelts.blogspot.co.uk about a year ago as a way to remind myself how I make things – it's surprising how you can forget! It almost felt like a diary to start with and it was a surprise when people started to look at it!
Connect With Carol
Visit Carol on her Foxglovefelts blog, Felt Creative web site, and her Foxglovefelts Etsy Shop.  She teaches workshops and accepts custom orders.
---
Text and Images Copyright 2013 Carol Martin, used by permission.