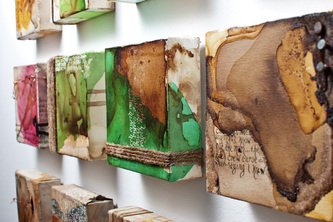 Mixed Media
During an Ascribing Artists event earlier this year I was drawn towards particular pieces displayed on the walls of Reflectives Art Gallery.  They were mixed media art, and I had never seen anything quite like them.  I try not to over-use the word "unique" on this site, but it applies here!  It turns out that I had just been introduced to the work of Amanda Duke Brown.
Visit her web site, and you will not only find a Gallery of her past work, but a section of Customer Photos.  It's neat to see art where it "lives".
The following is quoted from Amanda's web site:
About the Artist
"Amanda Duke Brown is a native of Huntsville, Alabama. She attended Auburn University where she graduated receiving a Bachelor of Arts degree in Art. While at Auburn she explored many mediums including: ceramics, drawing, painting, photography, printmaking, and sculpture. Today, she focuses most of her energy on her paintings which have evolved over the years into mixed media pieces that integrate paint, textiles, text, found objects, and organic materials."
"Amanda is inspired by God's creation, written word, and the human condition. Her intent as an artist is to create an intimate moment by binding nature and text into visual art. It's not unusual to find that her pieces have been buried in the earth, left outside to weather the elements, or primed with coffee and salt sometime during their journey into conception. It is this involved method that makes her works truly unique. Each piece of art has a story all its own; a past that is layered within itself – a history to share with the viewer. Amanda is currently creating her artwork 'Serpent & Dove Art' out of her home studio and Lowe Mill ARTS & Entertainment facility as part of Sojourn Creative Arts."
"I am sending you out as sheep among wolves, so be wise as serpents and innocent as doves."
– Matthew 10:16
Affiliations
Auburn Alumni Association
Ascribing Artists
Huntsville Art Blog
Huntsville Art League (HAL)
Huntsville/Madison Leadership, Connect
Huntsville Museum of Art
Lowe Mill ARTS & Entertainment
Sojourn
Sojourn Creative Arts
The Arts Council, Inc (TAC)
Web Site & Contact
Serpent & Dove Art
Blog
Contact
Follow on Twitter: @SerpentDoveArt
---
Copyright 2011 Kathryn Depew.   Photos by Amanda Duke Brown, used by permission.
Would you like your artwork or handcraft featured on this site? Please contact me!