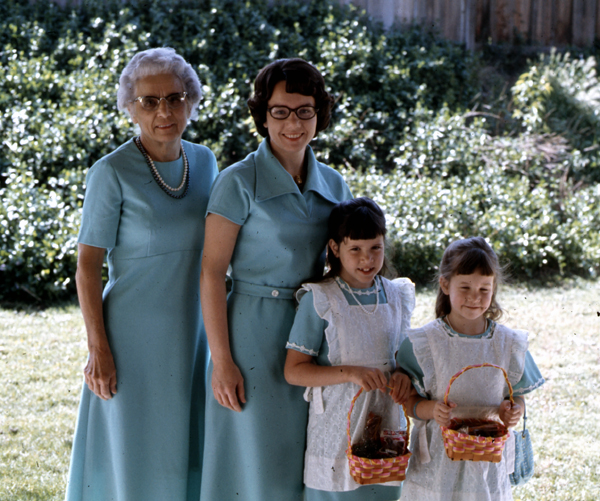 Remember
With the two-year anniversary of my mother's passing just behind me and her birthday coming soon in February, I felt it to be a good time to remember some of the ways she influenced and encouraged me, both as a child and as an adult.  This remembrance is not meant to be all-encompassing; it's just my reflecting on how she helped me become the woman I am today.
Encourager
Mom encouraged my passion for arts and crafts from a very early age. One of my earliest memories is the going to the library and learning beginner needlepoint using huge plastic needles and yarn!  Over the years she has been cheering me on in all of my various endeavors – from multi-level marketing businesses in the mid-1990's, to the dollhouse miniatures business I started in 1999, to my more recent adventures in selling at craft shows.  She signed up for my online newsletters, took my first class when I started teaching at dollhouse miniatures conventions, and attended every craft show she could.  All along I always appreciated her for her encouragement, but I know I took it for granted.  It means even more to me now looking back.
Talented
Mom was an artist and crafter of her own right.  She was an avid reader and loved to keep a journal.  She wrote several articles over the years that were printed in a wide variety of publications.  She loved to sew matching clothes for my sister and I when we were very young, and often sewed for her mother and herself, also (see the picture from 1976 above).  I love looking at old photographs from the early 1970's and seeing myself in those umm…beautiful flowered print fabrics my Mom chose for our dresses. In more recent years she sewed a wardrobe full of beautiful doll clothes for her grandchildren.  Several years ago I taught her how to cross stitch, and she created many beautiful gifts with floss and fabric.
Family
Genealogy research was one of Mom's passions.  Passing on the family stories, photographs and memorabilia became very important to her as she collected more and more data about our ancestors over the years.  Mom enjoyed displaying family antiques and photographs in creative ways (see the spoon in the picture above).   She loved to create scrapbooks about family, friends and travel.  She got me hooked on scrapbooking in the late 1990's and later digital scrapbooking when she gave me a digital "This is Your Life" scrapbook on my 40th birthday.  Bookshelves of creative scrapbooks were there for her children and grandchildren to browse through after her passing.
Legacy
You may wonder if all of the work you put into your art, crafts, scrapbooking, writing and collecting will ever mean anything to anyone in the future.  I wonder, and I know my Mom did too.  There is joy in the doing, to be sure, but what about those who come after me, will it be special to them?  The tangible things my Mom left to me are special because of the intangible things she lived and taught while she was here.  The things she made or were special to her are special to me now because it gives me something to hold on to.  They remind me that we are all on a journey together; we are meant to appreciate and learn from one another.  They remind me that the past, present and future are woven together and that I am a part of a bigger picture that I can't quite see yet.  I haven't figured out life, of course, but I know it has a lot to do with relationships – knowing God and knowing others; and through them, knowing ourselves.
Growing Up
There are things about my Mom and the things she created that I didn't fully appreciate or acknowledge while she was with me.  I supposed that is human nature.  I went through the guilt and the regrets that most people do upon losing a loved one.  Mom passed away at a relatively young age of 66 of non-smoker's lung cancer.  I sometimes wonder if she had lived another decade if I would have grown up enough to fully appreciate her and really thank her from my heart for who she was to me and to those who knew her.  I hope so.   The events surrounding her illness and passing, though, helped me grow up like no other event in my life up to that point.  I now find it a little easier to trust Jesus, a little easier to forgive, a little easier to be kind.  Through the grace of God I hope to be the kind of person that is grateful for who and what I have in life – sooner rather than later.
Copyright 2012 Kathryn Depew
---
Related Articles (Mom would have liked these):