From guest author LaGeris Underwood Bell
As your tummy expands while you await the arrival of your little bundle from heaven, your plans for the nursery may get larger and larger, too, especially if this is your first baby. Why not consider a simple, eco-friendly motif that allows you to express your creative side as well as your love for your baby? Imagine a nursery full of hand-crafted items made by your friends and family and yourself.
A nest full of items crafted by love will prove beneficial to the health, wellness, growth, and development of your baby, and indeed your whole family. Indulge your urge to nest with some of these helpful tips.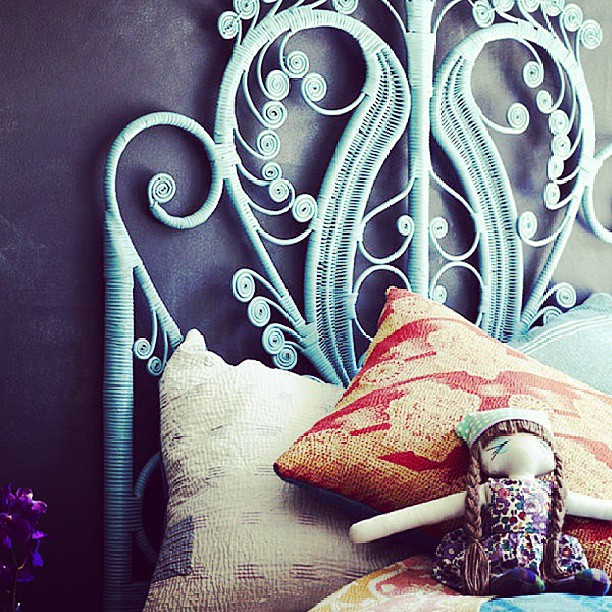 Environmentally Forward
Many of today's infant products are made of materials that are harmful to the environment. Infant toys and baby essentials that are crafted from recycled or environmentally friendly materials are a much healthier choice. Why let your little one breathe in fumes from a mattress made of dangerous plastics or sheets made from inorganic fibers?
Why surround them with toys wreaking of chemicals that can cause asthma and other respiratory issues? Simpler is often cheaper, easier, and healthier. Look for bedding made from organic materials. And you'll find a host of hand-crafted items that are just as much fun to play with and that are also healthier for your infant–wooden blocks, rattles, and stuffed animals–all made from natural textiles.
Sit and Knit
Awaiting the birth of your bundle of joy can seem endless. The clicking of busy knitting needles can make the time click by faster. Even for beginners, knitting is a wonderful artistic skill to develop. You can find local sit-and-knit parties in your community where beginners and veterans are welcomed.
And they are ideal for expectant moms–because you make new friends, get tips about baby care, and leave with a lovely item for your baby. Using the softest organic cottons or wools, you'll find that knitting blankets, tops, caps, and sweaters to be therapeutic and comforting. It's also a great way to add a more personalized touch to your infant's little nest.

Fanciful Furnishings
Feel free to unleash your creativity when planning your design. Shelving units, and rockers from your local retail establishment are a good start, but it's only the beginning. Personalize each item with stencils, paints, and eclectic family keepsakes.
A brightly painted rocking chair is both a comfortable place to cradle baby and a great conversation piece for guests. Drag your mother's old crib from the attic spruce it up. Festoon walls and bookshelves with whimsical framed art pieces, family photos, and eye-catching mobiles. Cradle colorful Mombo pillows in a covey of stuffed animals. Drape the bassinet with cheerful animal prints.
Create Teachable Moments

When a child is very young, one of the most important resources you can provide is your own voice. First make cloth-dolls out of old family items–sweaters, socks, shirts–and paint on the names of the family members to whom they once belonged. Then regale your little one with family stories about these same cousins, aunts, and siblings.
When your little one is inclined to bang or clank the item closest to them, use that moment to teach them about music–rhythm and movement. Look for low-tech toys that awaken their imaginations and help develop their cognitive skills. Hand-made rattles, for example, are a sensory feast for the ears, eyes, and as always with babies, the mouth.  Decoupage old fruit boxes and crates for storage of all toys.
Nurseries reflect the grace and charm of mommy and baby–an extension of their combined personalities. Celebrate the miracle of your baby's birth by surrounding him with treasures fashioned from your heart and imagination.
Writer LaGeris Underwood Bell hopes this article inspires expectant mommies and families to enjoy feathering the new baby's nest. She recommends Mombo pillows and other useful, but decorative items that will enhance the nursery decor.
Images from flickr.com used under the Creative Commons license. Image credits: Photo #1, Photo #2.
---
Related Articles