Disclosure: I was given one free bottle of Pollen-X to review.  My opinions are entirely my own and based on personal experience.
Yiva Naturals Pollen-X Review
When I was offered the opportunity to review Yiva Naturals Pollen-X, my interest was immediate.  Why does the author of a creative blog want to review an allergy relief product?  I'm not kidding when I say that allergies short-circuit my creativity.  For a person who loves to be productive and creative, (mostly fun kids' crafts with my preschooler these days) being sidelined by mere pollen and pine needles is incredibly frustrating.
I suffer from mild to moderate symptoms (stuffy nose and itchy eyes) off and on throughout the year, with symptoms severely worsening for two to three weeks in the Spring and Fall. There are more details about my experience with Pollen-X below, but here is the summary:
First Day: Quit over-the-counter allergy medication, started Pollen-X. No discernible difference in symptoms.
First Week: No discernible difference in symptoms versus the over-the-counter medication.
Second Week: Noticed that allergy symptoms would often decrease within an hour of each dose. Overall, no difference in symptoms, even when raking leaves and pine needles (see below).
Third Week: Slight decrease in overall symptoms versus the over-the-counter medication.
Fourth Week: Not completely healed, but there is a definite moderate decrease in overall symptoms versus the over-the-counter medication.  I breathe a little better at night, too. A welcome relief!
Allergens Everywhere
Any allergy relief product is going to have a tough time handling my allergies.  I love our neighborhood just outside of Huntsville, Alabama, but it is surrounded by cotton fields, corn fields, and other crops.  If the crop harvests were not enough, we have over a dozen mature pine trees that dump an amazing amount of pine needles on our yard each year.  I lovingly call it our pine needle farm.  And, a few years ago I was tested by an allergy doctor for allergies to local plants, grasses, etc., and was found to be allergic to….everything.  As much as I like it here, my symptoms have become progressively worse since moving to the Tennessee Valley.
When I received my bottle of Pollen-X a few weeks ago, I simply replaced my over-the-counter pills with the recommended dosage of the Yiva Naturals product.  (I've tried prescription-strength medication, but it didn't seem to work any better than the over-the-counter pills that I buy at Costco.)  The first thing I noticed was that my symptoms didn't worsen.  I also became used to the taste after several days, so I barely notice it now.  Since I started taking Pollen-X, I've been outside in the wind a few days, which usually makes allergy symptoms worse. I've also raked the aforementioned pine needles and also all sorts of leaves off of our yard; this took several days, and I didn't notice an increase in symptoms! (Then a storm came through, and promptly covered the yard again.  I give up.)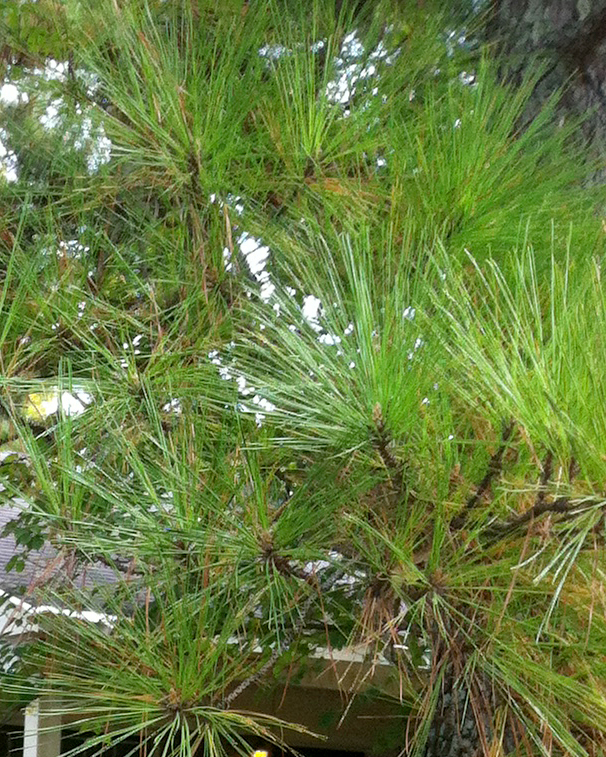 My Recommendation
Raking pine needles in the Fall severely worsens my symptoms…at least, that is what usually happens.  Not this year!  I can't say for sure that the lack of severe symptoms is due to the Pollen-X, but that is the only allergy-relief product I am currently taking!
So, if you suffer from allergies and would like to try an all-natural product, I would recommend trying liquid Pollen-X from Yiva Naturals.  There is one small drawback to the liquid, you have to take it three times per day, versus taking a pill once or twice per day.  In my opinion it is worth the very slight extra hassle since it is 100% all-natural and safe.
Yiva Naturals briefly explains how Pollen-X works (quoted from their web site):
Pollen-X, an all-natural product, helps your body learn to handle Tree and Flower Pollen, rather than allowing your immune system overreact to the "invader," or allergen (which causes the sneezing, running nose, itchy eyes and congestion, which comes with an allergy attack). Our proprietary formula teaches your body to recognize the allergen and then react without overreacting. Pollen-X does all this, without all the side affects of a pharmaceutical.
Discount Code
Yiva Naturals also offers other all-natural products including their popular Yiva Daily Balance and Yiva Fertility Boost.  Their 45-day money-back guarantee means they believe in their products.   You can learn more about Yiva on their website.  Use coupon code greenmoms20 for 20% off your order!
Giveaway
Yiva Naturals has offered a giveaway for my readers of one bottle of Pollen-X Allergy Relief (one month supply), retail value of $34.99!  Giveaway ends at midnight Eastern time on December 17, and is open to U.S. residents. 
Please enter on the Rafflecopter form below, all entries are optional. All of the winner's entries will be verified. The winner will be chosen and notified within two days of the end of the giveaway. The winner has two days to claim the prize; if there is no response another winner will be chosen. Must be at least 18 years old to enter.
Disclosure: I was given one free bottle of Pollen-X to review.  My opinions are entirely my own and based on personal experience.
---
Related articles