Meet Carole Rains, the owner of Rustic Artistry, Cotton Ridge Create!'s newest sponsor!  Rustic Artistry specializes in hand-crafted rustic chic furniture and decor.
Rustic Artistry is the result of my transition from being a restaurant chef for 16 years to being an entrepreneur with my own home-based business. Apparently 16 years is my "time to make a change" number, as I worked in pharmaceutical advertising for 16 years before switching to working as a cook. Seeking more mental challenges than I was getting at the restaurant, and knowing a lot about online shopping from, well, personal experience, I decided to start my own online store. So at the end of last year I left my restaurant job and have spent almost every day since then teaching myself about ecommerce, online marketing, niche selection, website analytics, and all those acronyms like SEO, PPC and CPI. It was all greek to me, but it is so much fun to be learning something new every day. Luckily for me my daughter is a web designer, so she built my site, and my experience in advertising came in handy when choosing the typeface, layout and design elements.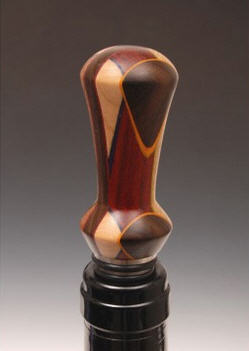 As for my decision to focus on rustic chic furniture and decor, I simply have always been drawn to that style, even though I don't (yet) live in a cabin in the woods by a lake. When I first started looking for suppliers for my merchandise, I set up accounts with some of the big manufacturers. But the more I looked at what was being offered on other rustic furniture sites, the more I realized that I didn't want to have the same pieces that you could find anywhere; I wanted the unique, one-of-a-kind, handcrafted furniture and decor that's being made by individual artisans out back in their barns. I began to scour the web for craftsmen who made rustic decor, and was blown away by how much talent and creativity is out there if you're willing to dig for it. But most of these artisans had very little exposure on the web, had hard to find websites, and were selling primarily through referrals and shows. Their work wasn't getting exposed to all the potential customers who would be interested in it.
I collected a big list of artisans, and started sending emails to pitch them on Rustic Artistry. I'm so grateful that people were willing to take a chance with my idea. I now have 20 artists represented on my website, with several more in the works to add soon, and many more to contact. It's structured so that I present their work on my site, and when a customer orders, I contact the craftsman to build the item, if it's not on hand, and ship directly to my customer. We work on a commission basis.
I launched the site this summer, so have been working hard at promoting it, utilizing Pinterest, targeted Facebook ads, emails to interior designers, and of course, reaching out to bloggers. It's been an great mid-life transition, and I am so excited about what's yet to come.
Connect With Carole
Contact ~ Visit Rustic Artistry's Web Site ~ Follow on Pinterest ~ Follow on Facebook
---
Text and Images Copyright 2013 Carole Rains, used by permission