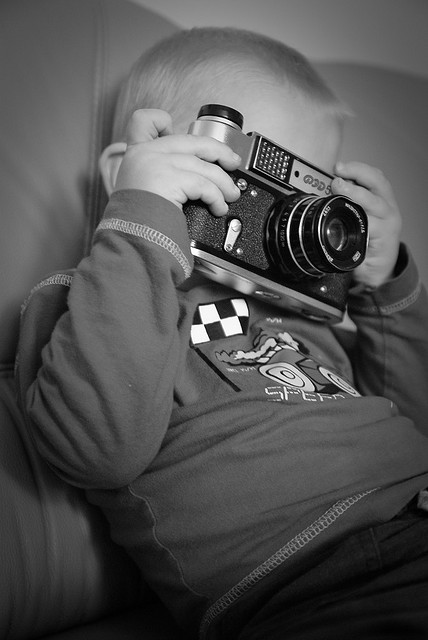 Guest author Jared Jaureguy has several great tips for taking your own family pictures.
These days the price of a family photo shoot can cost almost as much as a nice digital camera. You may have thought it makes more sense to take your own family photos, but you aren't quite sure where to begin. By taking your own photos, you can wait for the perfect moment and avoid fake smiles and cheesy backgrounds that are often associated with studio portraits. With a little skill and practice, you too can take beautiful family photos with your very own camera.
Equipment
There is no particular camera required to take a decent photo. Just be sure your camera has a ten second timer to give you a chance to run into the picture. Some digital cameras have the ability to automatically take a shot every few seconds. This can be useful in capturing those natural, priceless moments. However, at a minimum, be sure to use a tripod, which can positively affect both the quality of your captured moments as well as the experience of the photo shoot itself.
Lighting
Good lighting gives you less grainy photos and great color. With the use of natural outdoor lighting, you can capture beautiful pictures without the expense and hassles of lighting equipment. Avoid shooting in the middle of the day, which may result in strong shadows on faces. Three ideal lighting conditions are:
-Open Shade – Large fully shaded spaces, such as areas shaded by buildings and awnings.
-Overcast days – Be sure to protect your camera from the rain. Umbrellas are fun additions to photos.
-At sundown – The sun setting on the horizon gives a brilliant golden glow to your photo subjects.
Scenery and Location
Hang your own backdrop using a sheet, blanket, or even interesting shower curtain as your backdrop. If you are going for a more natural outdoor photo, search out spaces with good texture to create interesting compositions, such as a brick wall, fence or field. Be sure to choose a location that helps your family feel comfortable and relaxed and where they can be themselves.
What to Wear
The style of your photo is completely up to you. Everyone can color coordinate or just wear their favorite outfit and not match at all. Consider your location when choosing your clothing to make sure the location and clothing style and colors are cohesive. You may also want to consider color choices if you plan to hang the photos in your home. Choose a theme that will work well with the rest of your home décor.
Tips for Capturing Children
Children can be such fun subjects to photo; their natural laughter photographs beautifully when you are able to catch it at the right moment. Most children struggle with the traditional pose and "say cheese" photo shoot. Don't fight your child's natural curiosity and silliness. Let their personalities shine through. It's been said that, when photographing children, hiring a good clown to perform behind the camera can be a better investment than a professional photographer.
Be sure your children are not hungry or tired. Also, take into consideration their short attention spans and know you will only have a few minutes of their full cooperation. In order to be ready to catch the right moment, familiarize yourself with your camera before your shoot so you don't waste time fiddling around with settings and lose the moment.
Variety
Take a variety of shots in both vertical and horizontal, as well as a few group shots with parents, children, boys, girls, etc.
Photo Editing
Software can help you improve your photo results with cropping, removing red-eye and unwanted light flashes and glares, sharpening your images, correcting white-balance, blurring and fading effects, enhancing or removing colors, fixing facial blemishes and even editing people and other objects into or out of your photos.  If Grandma couldn't make it to the shoot, you can edit her right in there.
Printing and Sharing
There are so many options when it comes to sharing your photos. The beauty of taking your own photos is that you have the rights to all of them and you can print and edit them to your heart's desire. In addition to printing and displaying your photos on walls, you may decide to make a photo book of your favorite shots or turn them into mouse pads, calendars or coasters as gifts.
With digital photographs and a little photo editing, your options are endless. Just remember that the key to creating special memories and priceless family photos is, simply, to make sure everyone has fun in the process.
Need more photography tips?  You might like these articles: Photography Lessons With Joe: 9 Steps To Better Pictures Plus Recommendations and Online Class Review: Shoot It! Product Photography by Craftsy.
---
Guest author Jared Jaureguy is an independent technology consultant. He writes for many of the top tech blogs, follow him on twitter @jaredjaureguy.
Image by Slawek Puklo on Flickr.com, used under the Creative Commons license.