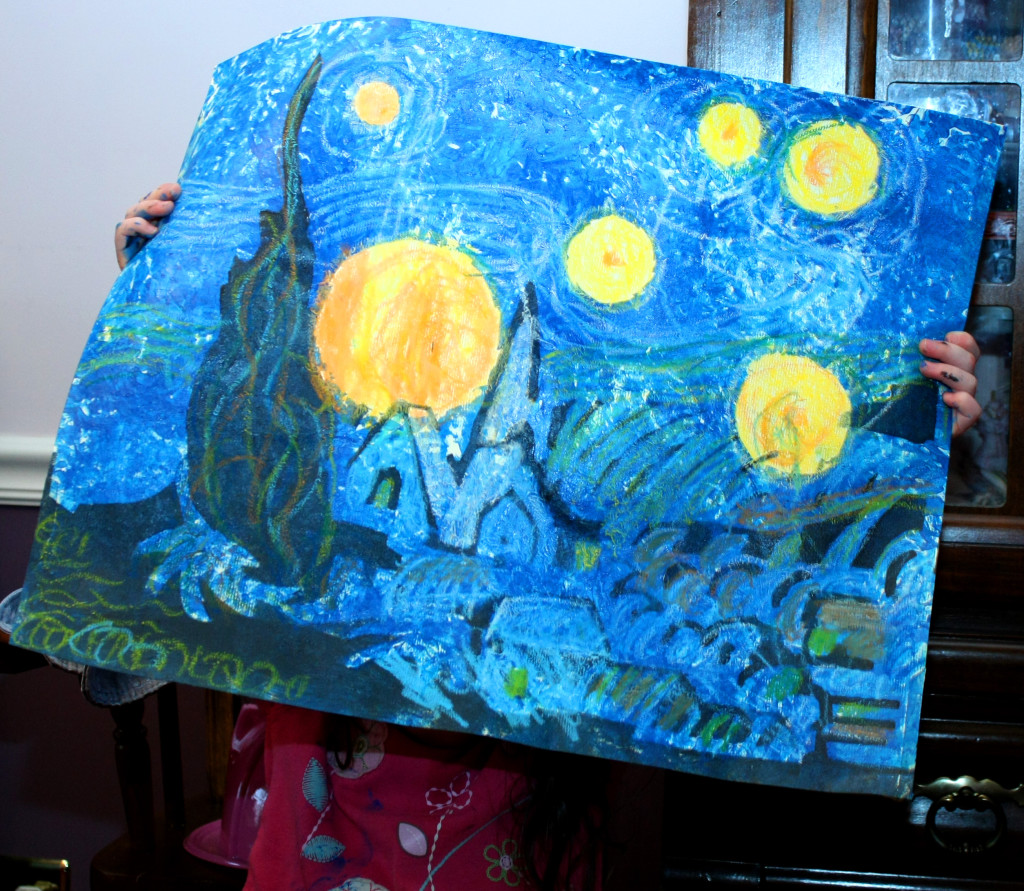 Today we had a great time getting creative with the Starry Night Master Art Kit from UncommonGoods.com!  M, my three-year-old, couldn't wait to open the box, and she had a great time discovering all the tools and supplies inside.  To paint the masterpiece shown above, we needed the dining room table (covered with a vinyl tablecloth) and just a little prep work.  All of the tools and supplies needed were included in the kit except for a few items easily found around the house.
The UncommonGoods web site is fun to browse – they have many art/craft kits and gifts I've not seen elsewhere.  If you are looking for unusual or not-so-common gift ideas for men this Valentines' Day, click here for a great selection (I love the Black Window Art).   Need a gift for her?  Visit their web site for several cute ideas, including the very pretty Adeline Mother-Daughter apron set.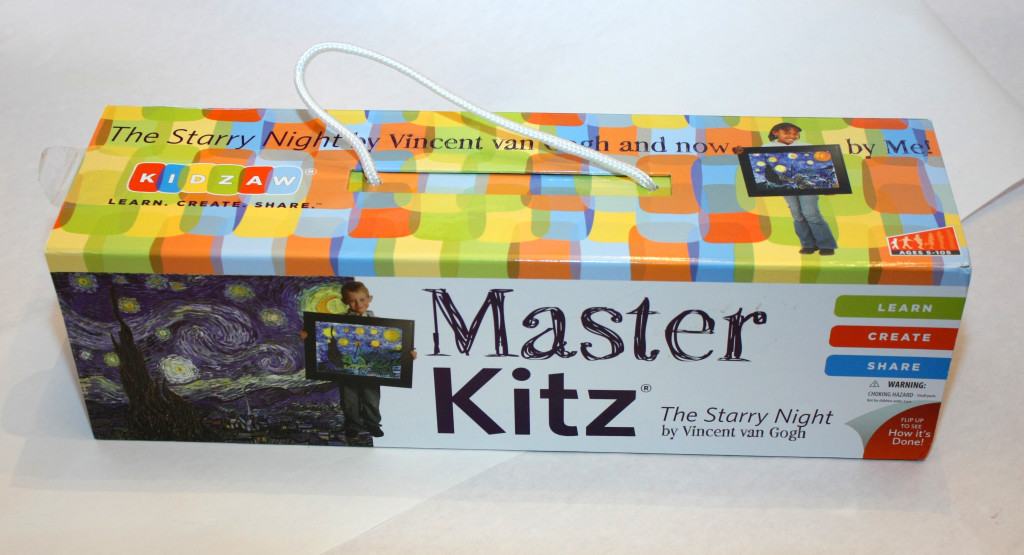 M loves to paint and was eager to get started.  It didn't take long to put down some butcher paper, and then tape the art paper down to it.  (It took us a little longer to get ready because I was taking pictures!)  The kit includes detailed, easy-to-follow instructions, and I read them to her as we started each step.  M loved using the rollers to paint, and she stuck with me through all the steps through to coloring the stars with the oil pastels.  I finished the details with the oil pastels, so the completed work is a collaboration between two artists!  The oil pastels create such interesting effects, especially when the colors are layered.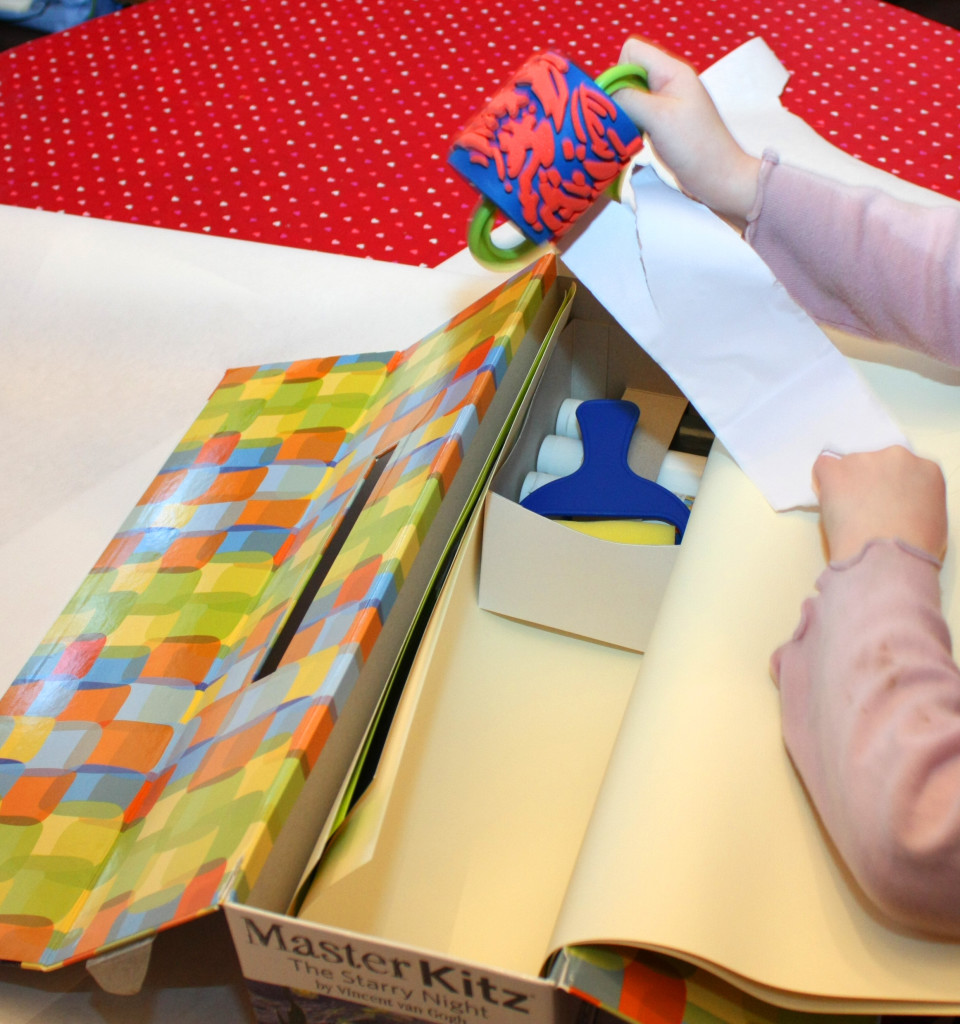 Included in the kit is:
Nice, sturdy box with a handle (M had almost as much fun carrying the box around as she did painting)
3 acrylic paints – blue, black and white (warning – these are NOT washable – wear paint clothes and protect surfaces)
5 oil pastels
1 "Van Gogh" roller designed to replicate Van Gogh's brush stroke
1 re-usable stencil
1 small foam roller
2 pieces deluxe art paper
1 set of re-usable low tack stars stickers
Clear, step-by-step instructions and idea sheet, with information about Van Gogh
You will also need:
Paper plate or large paint palette
Masking tape
Vinyl tablecloth and/or butcher paper or newspaper to protect surfaces
Hair dryer (optional)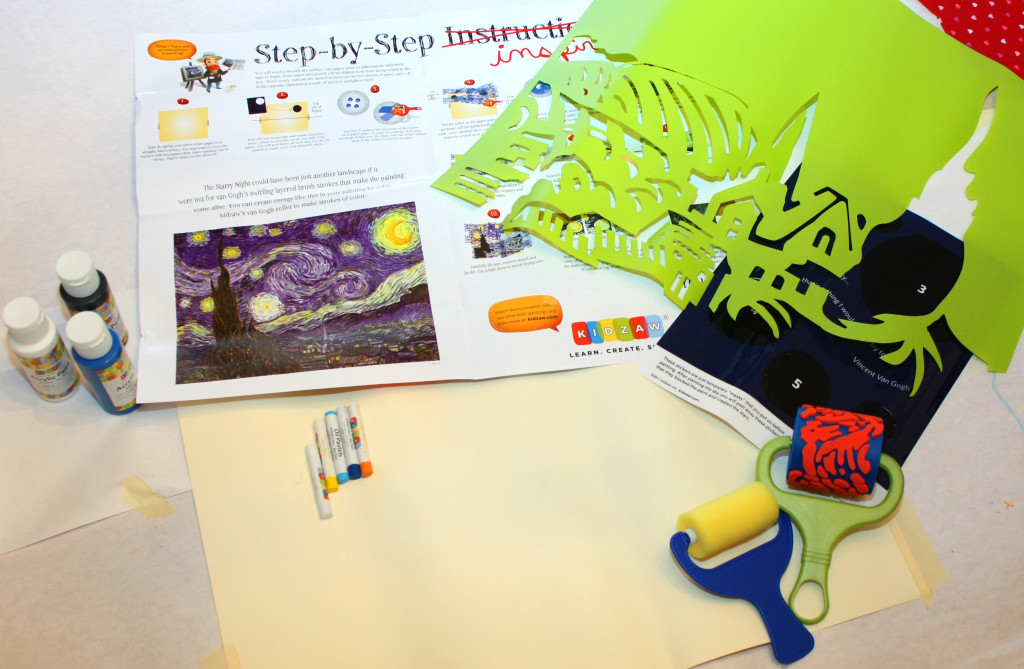 I love that the tools, template and star stickers are re-usable!  I estimate that the paint and pastels will last through 4 to 6 Starry Night paintings.  M used the roller again in her own "free-form" painting (using washable paints).  This was a fun project to do with my very young daughter, and I'm looking forward to seeing how my older nieces enjoy it.  (The kit suggests an age range of 6 years old and up). They always come up with great ideas!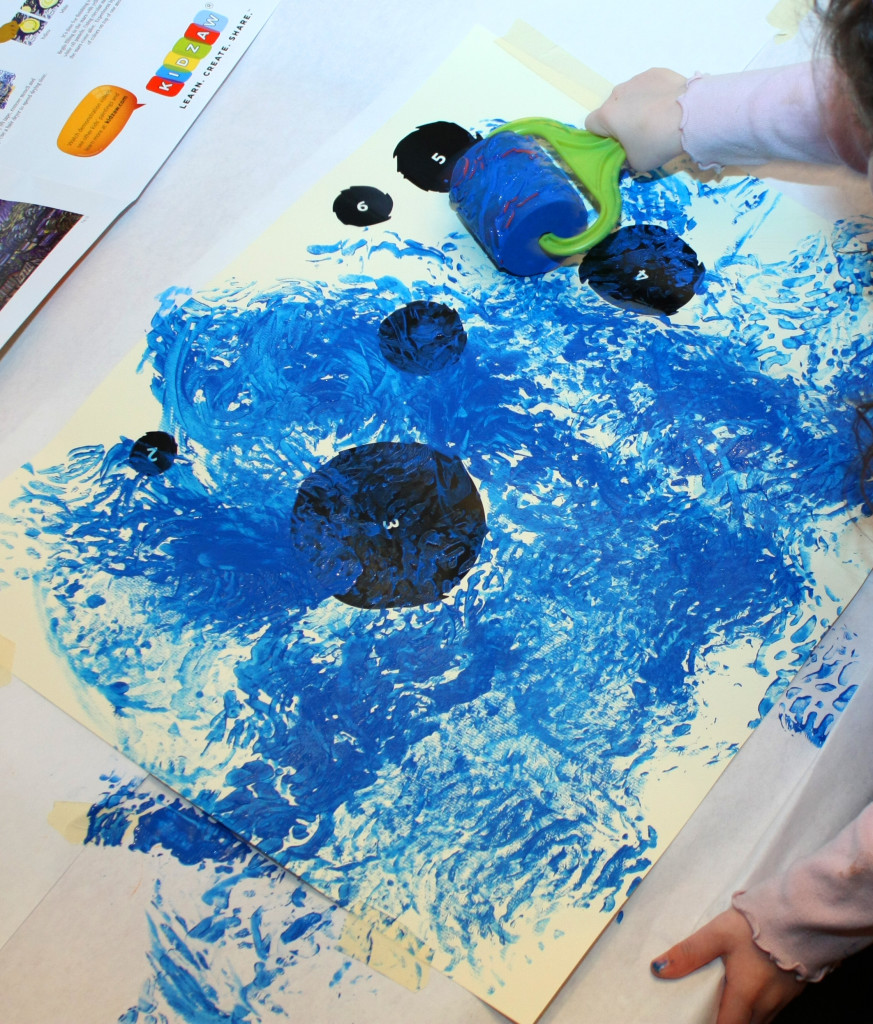 As suggested in the instructions we used the hair dryer a couple of times to speed up drying time – it worked great.  Clean-up was easy enough – wash the rollers in soap and water, use the butcher for more painting, then roll it up and throw away.  Everything fits back into the box it came in!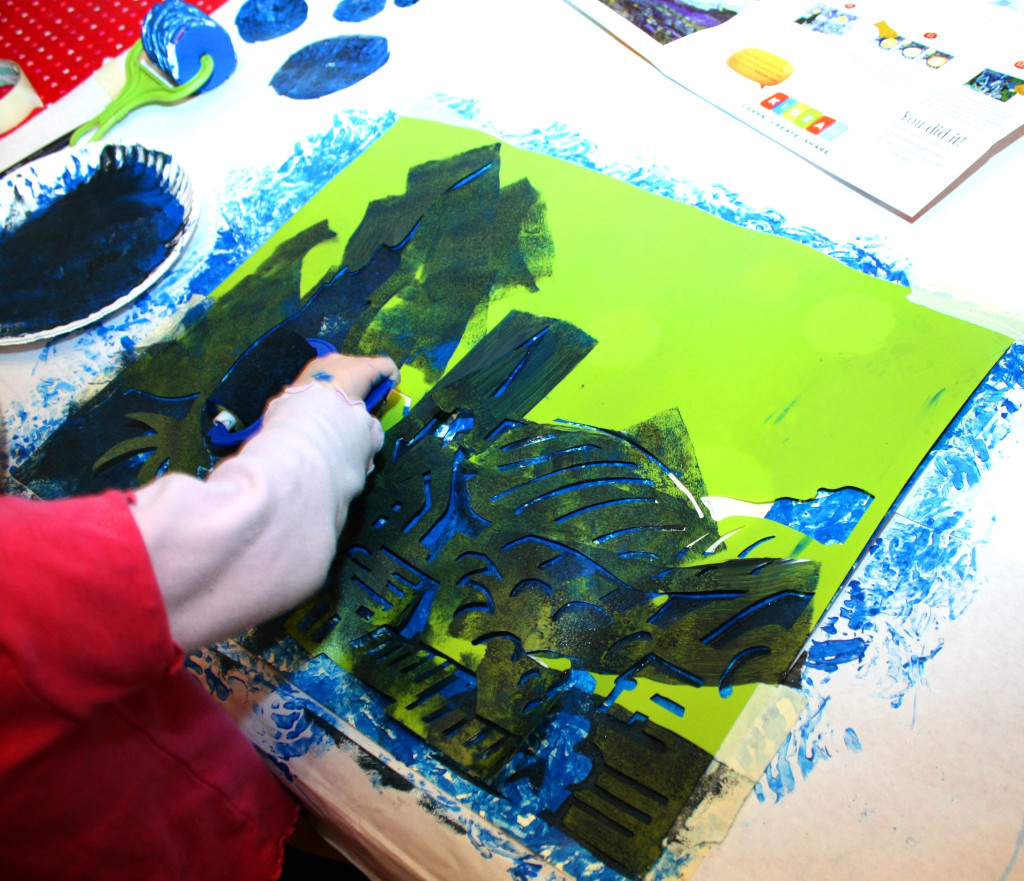 The painting kit would be an ideal "hands-on" educational tool for an art history lesson and/or after a visit to an art museum.  If the kids are also required to write a report on Van Gogh, they can start their research with the informational sheet included in the kit.  I plan to read it to M later today – it's never too early to start an art education!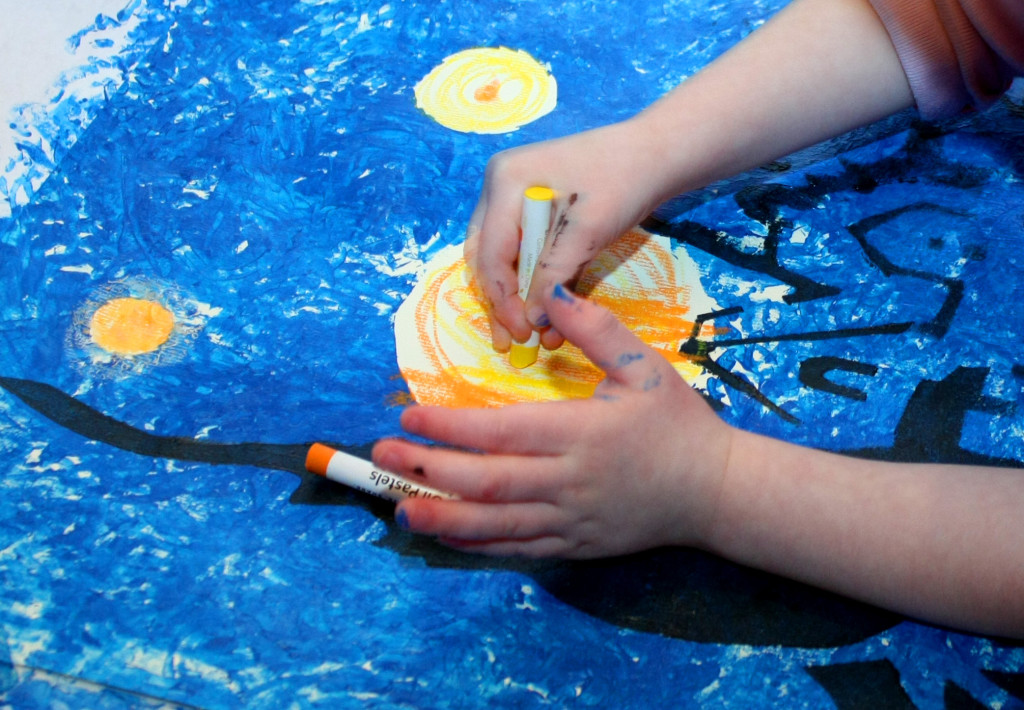 When UncommonGoods approached me regarding a review, I had a difficult time choosing among all of their interesting and fun products.  I was seriously tempted by the toys and games for kids ages zero to three (click here to browse their great selection).  But,  I narrowed my choice down to this Starry Night Master Art Kitz and the Kangaroo felt animal kit. (Very cute! Click here for the review.)  UncommonGoods offers several different Art Kitz – I really enjoyed the Starry Night, and next time I will probably try the Sunflowers.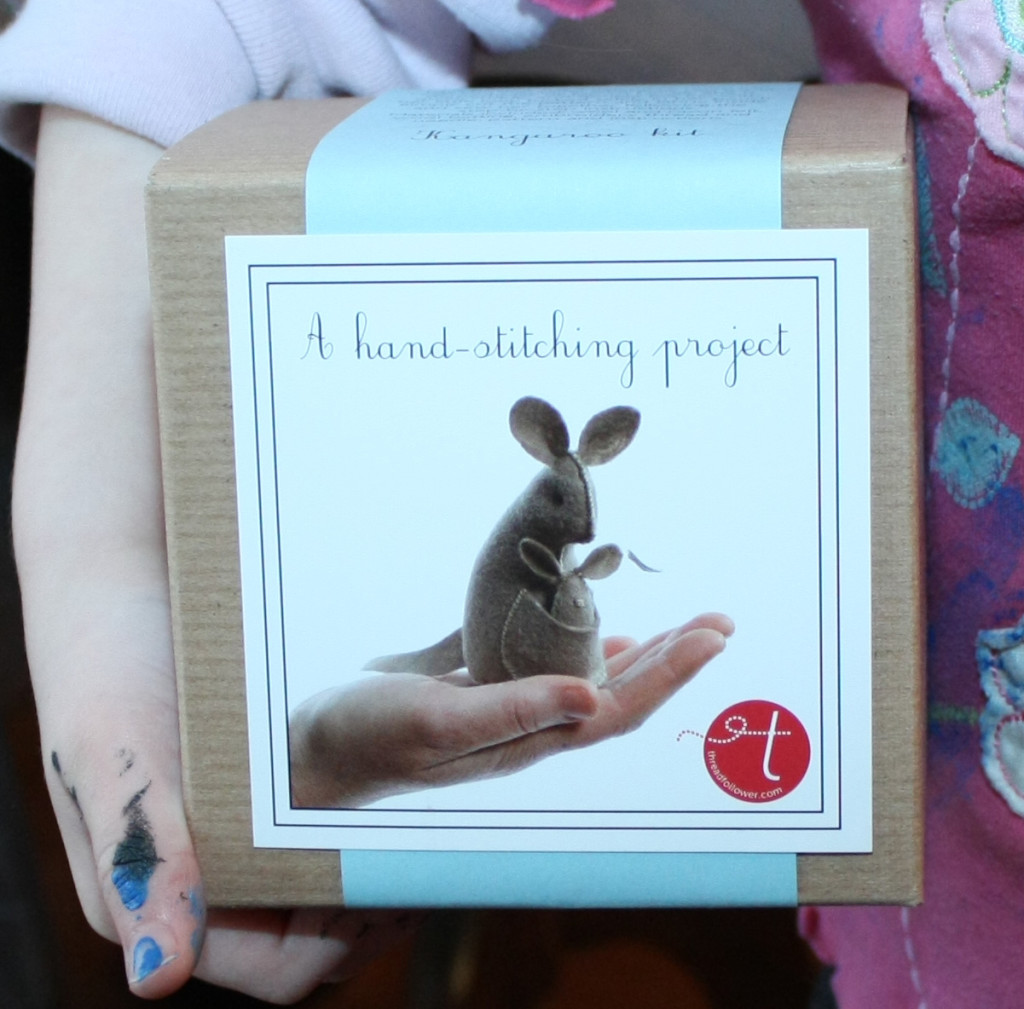 Disclosure: I was not paid for this post, but I was provided the Starry Night Master Art Kitz and the Kangaroo felt animal kit to review at no charge.  All opinions are entirely my own, and may differ from yours.  If you are interested in doing a product review for UncommonGoods, check out their Blogger Review Program here: http://www.uncommongoods.com/reviews.

---
Copyright 2013 Kathryn Depew
Related articles