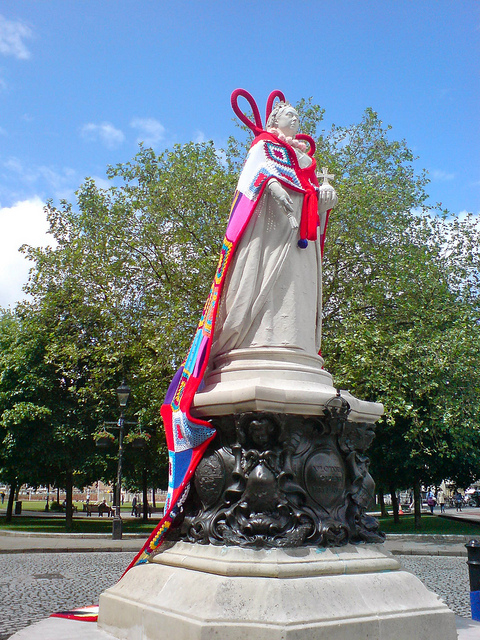 I confess I didn't know too much about yarn bombing or guerilla knitting before reading this article, but once I did I couldn't resist posting it!  For some wonderful images and ideas, do an internet image search on "yarn bombing."
From Guest Author K. Conway for Pack Lane Wool
If you were asked to describe your stereotypical knitter, you'd probably describe a little old lady sitting beside the fire churning out an endless supply of garish sweaters and misshaped scarves. Knitting has undergone quite a renaissance recently, and interest in our traditional craft heritage has never been higher. One of the ways in which knitting has grabbed the headlines is through the work of a group of guerrilla knitters whose work is part art, part fabric.
Definition
Depending where you are in the world, this sort of knitting is known as guerilla knitting, yarn bombing, urban knitting or graffiti knitting. The idea of the movement is to cover structures with pieces of knitted fabric. This makes street art which is clean and can be simply removed once the event is over. The original idea behind guerilla knitting was to make public spaces such as parks or city streets feel warmer and more welcoming, as well as injecting a splash of colour and texture into the concrete and chrome.
Secrecy
One of the reasons that yarn bombing has grabbed the headlines is the secrecy. Organisers of yarn bombing events like to keep their plans under wraps, and often sneak out in the dead of night to wrap colourful blankets around trees or put a jumper on a city statue. This secrecy keeps the concept fresh and new – you never quite know where the next yarn bombing event is going to take place and what the next target will be. Despite the secrecy there is no sinister nature to the guerilla knitting movement, it's all about being creative with your Rowan yarn and having fun at the same time.
Getting Involved
One of the original and biggest yarn bombing groups is Knit the City, who are based in and around London. They have been going since 2009 and have a website which explains more about the organisation and how to get involved. Fancy knitting skills are not required; as long as you have a stash of Rowan yarn and a pair of needles you're good to go. Most larger towns and cities have a knitting group or club, so if getting involved in the yarn storming project is something that interests you, make contact with the groups and see if you can find some like-minded people to join you. Decide on your first target for a woolly scarf and the group is up and running.
Projects
Some of the yarn bombing projects which have attracted the most attention are the ones which are unusual and quirky. Everyone has seen scarves wrapped around trees, but it's not every day you see a whole military tank covered in a pink patchwork knitted blanket. This project had a clear anti-war message, but other projects are less political. Knit in the City covered one of the iconic red telephone boxes near the Houses of Parliament in knitting, much to the bemusement of Londoners and tourists alike. The fuss generated was considerable, and the idea was to bring a bit of fun back to a recession-hit UK.
Online stores such as Pack Lane Wool who sell Rowan Yarn and other leading varieties are often the perfect place to pick up some yarn in preparation for guerilla knitting.
Photograph by Thomas Guest Via Flickr (CC BY 2.0). License: Creative Commons image source.
---
Related articles