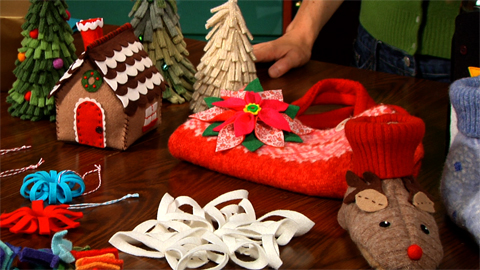 Warm Fuzzies
I loved creating Christmas ornaments and other crafts out of felt with my Mom when I was a child, and now when I buy felt for kids' crafts it brings back warm memories!  I've noticed lately on Etsy and around the web that felt seems to have "grown up;" artists are using it to create beautiful wearable art and more.  (See this Etsy Treasury for examples!)
When I found Fab Felt Holiday Crafts on Craftsy, it immediately captured my attention, probably because of the warm fuzzies  that I mentioned above!  The class delivered more than I expected, and can be adapted to a variety of skill levels.  Several of the projects would be lots of fun to make with older children (create your own warm fuzzy memories!)
Fun Holiday Crafts
Fab Felt has several neat projects – I think I'm going to start with the gingerbread house and felted trees.  The house is so cute! The kids are going to love it, and it looks like once I get the hang of it I can make different sizes and shapes.  Now that I've watched the lesson on the scrappy garland, I really want to try to make this before Christmas this year, too, it looks like a lot of fun!  The nice thing is, next year I can come back and watch the class again and make the other projects!
The downloadable materials include the patterns for the crafts shown in the video, and also instructions with color photos!  Here is the list of projects included:
Christmas Ornaments
Penguin Wine Sleeve
Poinsettia Brooch
Felted Wool Slippers
Gingerbread House
Felty Fir Trees
Scrappy Garland
I was very happy with this class – the instructions are excellent and the video is high quality.  The instructor, Betz White, was clear in her explanations and is very experienced in using felt in projects.  She has great ideas on recycling wool sweaters and blankets, and explains how to "felt" them.  Betz also had suggestions for products that help you work on the projects.  In this class you will use simple hand-sewing, embroidery, and simple stitches on a sewing machine.
Be sure to check the projects that other students have uploaded for more ideas, and the great reviews this class has received.  For more information about the Craftsy online platform, please see my review of the Shoot It: Product Photography Class!
Disclosure: Craftsy gave me this class at no cost to review.  I was not compensated for this post, but I will receive a small commission if the links above are used to make a purchase.  Nevertheless, my opinions are 100% my own and may differ from yours.
---
Related articles