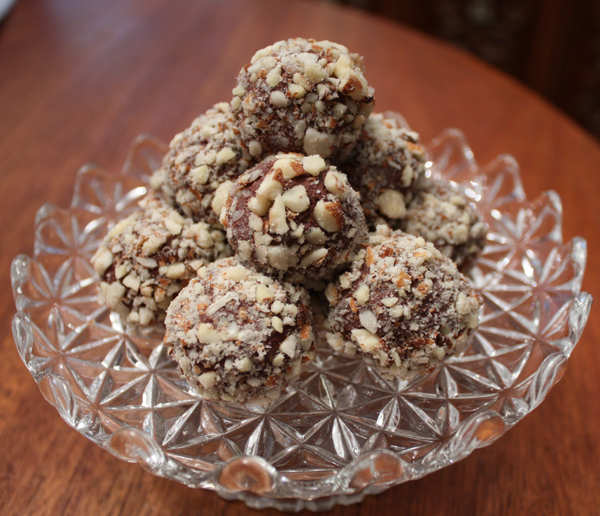 Very rich and delicious, truffles make an easy, elegant dessert. This low-carb recipe makes approximately 28 walnut-sized truffles. There are approximately 43 net carbohydrates in the entire batch, so each truffle has about 1.525 net carbs. Those who love dark chocolate may find the Truvia unnecessary.
Ingredients
3/4 cup heavy cream
1-1/2 cups Hershey's Cocoa, Natural Unsweetened or Hershey's Special Dark 100% Cacao
1/2 cup butter
1/2 cup Torani Sugar Free Raspberry Syrup
3 tablespoons Truvia and/or
1/2 cup finely chopped almonds
Instructions
Melt butter in medium bowl and mix in cocoa powder.
Heat cream on the stove on low to medium heat (stir regularly and watch closely – it burns easily).
Stir cream into chocolate/butter mixture until smooth.
Add Torani flavoring syrup and mix until smooth.
Cover and refrigerate for 3 – 6 hours.
Roll into walnut-sized balls, then roll in Truvia and/or chopped walnuts.
Store in refrigerator.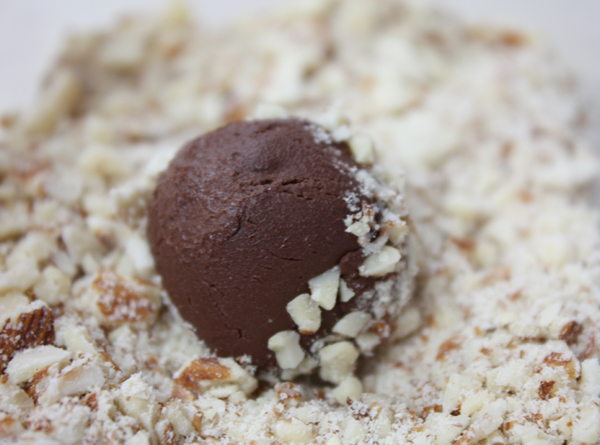 Variations:
Use chopped pecans, walnuts, or macademia nuts for toppings.
If you are willing to add a few carbs, roll some of the truffles in coconut.
Use a different flavor of Torani Sugar-Free Flavoring Syrup: vanilla, hazelnut classic, caramel classic, chocolate, or Irish cream.
Notes
When I serve truffles at a party, I like to make three or four varieties of flavors and toppings. They look like you went to a lot of trouble, but are really not that difficult to make! We've tried the Torani Sugar-Free Vanilla and Raspberry flavors, and they are both delicious.
---
Copyright 2012 Kathryn Depew
Related articles