Photography Lessons in Huntsville, Alabama
I have the opportunity – lucky me – to take photography lessons with Joe this summer.  Once each week I will be learning things like what an f-stop is, the meaning of ISO, and how to use my nice Canon Digital Rebel XSi for something other than point-and-shoot.  (Although I have taken some great pictures with it – more because of the quality of the camera than the photographer!)  Admittedly I am a bit nervous – do I have it in me to be a good photographer?  Joe assures me that I do and that he will try and teach me everything he knows!  Here are my notes from the first session.  Fair warning, there is a lot of information, and not exactly organized (the first session was just a relaxed overview).  Joe says next time we will start from the beginning!
My Goals
I'd like to be able to take great photographs of:
Children and adults, inside and outdoors
Pottery
Jewelry
Flowers and trees in my back yard
Landscapes
Indoor decorating or craft ideas
…well, pretty much anything!
---
Canon Digital SLR Cameras & Bundles
Photography Magazine Subscriptions
The Art of Photography: An Approach to Personal Expression
---
Getting Started – Tips & Pointers
Please keep in mind that these are Joe's opinions, based on years of experience.
Use a UV or clear glass filter to protect lens.  Recommended Hoya 58 mm Lens Filter (for my lens) at B&H Photo, Amazon.com or Adorama.com.  These are reputable online photo supply shops.
Photography is essentially a two-part process: 1. Get a good original photo in camera and 2. Prepare it properly for presenting it on paper (there are several different types) or online.
Use Adobe PhotoShop (full version) or Adobe PhotoShop to brighten colors and sharpen images.  Can lighten and darken images to draw the viewer's eye to a particular spot in the picture.  Elements does about 90% of the interesting stuff.  Can buy the less expensive academic version of Adobe Photoshop if qualified.
Printing
Recommends mpix.com for uploading pictures to be printed.  They produce very nice paper prints and canvas prints, and are inexpensive.
Joe prints his own images on various types of paper on two different printers.  He uses an Epson 3800 and an Epson 7900.   Canon also make good printers – be sure to use the manufacturer's ink and good paper.  He buys rolls of photographic paper at Adorama.com.   There is a calibration procedure for the monitor and printer, so that the printer prints an image that looks almost exactly like the image on the monitor.  In Adobe PhotoShop use a profile – i.e. tell the program that you are printing on a particular type of paper on a particular printer.
Composition, Perspective, etc.
We will learn ideas about composition and perspective.
There are several reasons for a blurry image.  Along with using a tripod we will learn to handle moving subjects, focusing and lens stabilization techniques, and learn how to control depth of field.
Color and white balance – need to tell the camera what kind of light you are working with (incandescent, daylight, etc.).  Can use a white piece of paper for white balance.
Lenses & Flashes
A large aperture lens (Canon 50mm f/1.8, about $120 for my camera) is a great portrait lens.  Collects more light than a normal lens.  Quick portrait tip: always focus on the closest eye, and the rest of the face will look like it is in focus.
Photography is essentially taking a three-dimensional room or object and putting it on a two-dimensional field.  You can imply three dimensions in a photograph with shadows and other techniques.  Can use a Canon Speedlite 430EX II Swivel Flash, point it towards a wall, and use reflectors on other side for a more natural look.  Can use a white foam core board or silver sun-blocking car windshield insert for reflectors.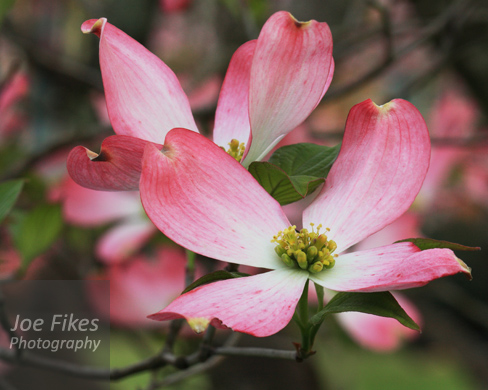 Nature & Landscape Photographer
Joe Fikes resides in Huntsville, Alabama with his wife Judi, having retired from a career as a physicist specializing in lasers and electro-optics.  His photographic interests vary widely, but he primarily works with landscapes – everything from grand vista to intimate close-ups of wildflowers, streams and gardens.  He's particularly fond of the Appalachian mountains and the American West.
Joe has spent over 40 years honing his technical and artistic skills, first with 35 mm film, then large-format cameras, and now with Canon Digital SLR Cameras.  His work is characterized by classical composition, critical sharpness, rich tonality and vibrant color.
Read more about Joe and his photography, contact information and lessons…
---
Copyright 2012 Kathryn Depew. All photos by Joe Fikes, used by permission.
Would you like your artwork or handcraft featured on this site? Please contact me!
Related articles