For hot summer days when you'd rather stay inside…
Make & Decorate Sugar Cookies: Sugar Cookie Mixes Product Reviews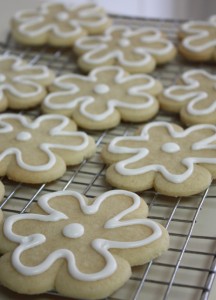 Making cookies with kids is a classic rainy-day (or hot summer day) activity! Kids learn a bit about mixing and baking, and then get to decorate the finished cookies. Use cookie mixes
when you are short on time (or patience).
Click here for the product reviews, tips and suggestions…
---

DIY Personalized Shadow Boxes
This project isn't only for kids – I had fun making these myself!   Click here for step-by-step instructions and photos…
---

Paint Your Own Pottery
Kids Love Painting Pottery!  If you own a kiln or have access to one, invite the children in your life over to paint their own pottery!  Mugs, plates, bowls and ornaments make great gifts from children to loved ones.  Visit Amazon.com
, Big Ceramic Store or Creative Crafts, Inc. for a wide selection of bisque
and low-fire pottery glazes
.
Click here for ideas, tips and suggestions…
---

Frame Your Art
The other day I excitedly told my friend about a new idea I had – framing a child's painting for a gift to Grandma and Grandpa. She told me the idea has been around for ages!  Click here for some ideas using mat board frames and pre-stretched canvases…
---
Copyright 2012 Kathryn Depew
Related articles